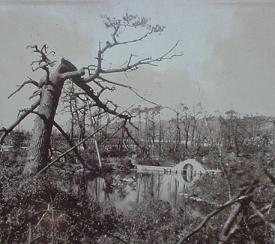 Shukkeien
2 Kaminobori-cho, Naka-ku
Located between the Hiroshima Prefectural Art Museum and Kami-nobori-cho Junior High School.

Shukkeien, literally "shrunken scenery garden", was begun in 1620 by the then feudal lord of Hiroshima. It consists of a central pond surrounded by many inlets, bridges and cottages and a diverse range of vegetation.

There is reported to be a Zelkova tree near Shukkeien (at 2-11 Kaminobori-cho) however no one at Shukkeien or Kaminobori-cho Junior High School next door know of this tree.
---
Located to the right of the pond, on a small rise, just after crossing a low series of bridges.
Ginkgo: 1370m
Plaque:
On the afternoon of August 6th, 1945, following the dropping of the atomic bomb, the woods inside the garden began to burn, and the well-known gigantic trees were almost all completely consumed. However, this ginkgo is one of the trees which did survive. The circumference of the trunk is approximately 4 meters, and the height of the tree is 17 meters. The age of the tree is estimated at 200 years. As it was bent in the blast from the atomic bomb, the top and branches have been pruned to keep it from falling over.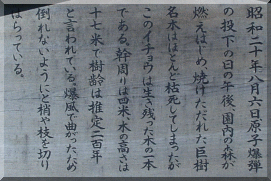 click thumbnail to see full size image

| | | |
| --- | --- | --- |
| | | |
| | | |
| | | |
---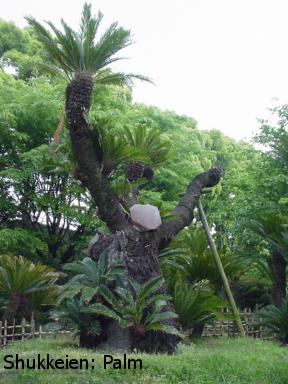 Located in the middle of the garden, near the pond.
Giant Palm: 1370m
Plaque:
Giant palm
Age estimated at over 300 years.
click thumbnail to see full size image

| | | |
| --- | --- | --- |
| | | |
| | | |
| | | |
---
This tree was difficult to find - not even the staff new it was here. To find it go left around the pond, (most people go right and follow a circular route around the pond - this if fine and will take you past the palm and then the Ginkgo) then head to the back left fence by the river. It is literally in the fence.
Muku: 1360m
Plaque:
During the war, Shukkeien garden was designated as a public evacuation center. For this reason, a number of victims of the atomic bombing gathered here following the detonation on August 6, 1945. In the afternoon of that day, a fire began in the woods within the garden, and as a result of the inferno, a vortex formed over the river. Many people and property in the vicinity were sucked in, and many lives were lost. This Muku which was situated at the north side of the park was burned by the radiation from the blast, and there is a large hollow charred area on the trunk.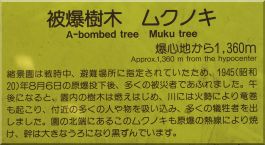 click thumbnail to see full size image

| | | |
| --- | --- | --- |
| | | |
| | | |
| | | |