Kami-nobori-cho
Junior High School
Kami-nobori-cho Junior High School
14 Kami-nobori-cho, Naka-ku
Located next to Shukkeien garden and near the Hirishima Prefectual Art Museum.

This is the school Sadako Sasaki attended as a first grader in 1955. At the age of 12, as a result of the atomic bombing, she developed leukemia and died. She believed that if she made 1000 paper cranes she would live - she died before completing them. Today, there is a memorial to her at the school, and people all over the world send paper cranes to Hiroshima to honor all children affected by atomic bombs.
Japanese Hackberry: 1420m
This tree is hard to find.. go in the main entrance, turn left walk to the fence, turn right go to the end. It's behind the big ugly shed by the fence to Shukkeien.

Plaque:
This Japanese Hackberry survived the atomic bombing on August 6, 1945. Originally this area was the site of Shukeien gardens. However, when the junior high school opened, it was incorporated into the school grounds. The Japanese Hackberry was scarred by the heat from the blast, creating a hollow stretching from the roots to where the limbs branch out.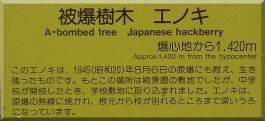 click thumbnail to see full size image

| | | |
| --- | --- | --- |
| | | |
| | | |
| | | |
---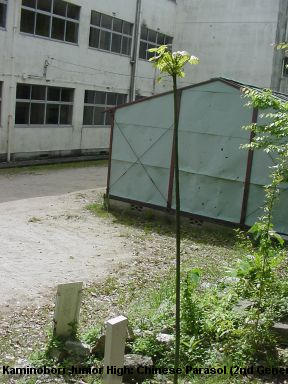 2nd generation Chinese Parasol
The mother of this tree is located in the Peace Park.

Plaque:
2nd generation abombed Chinese parosol, (planted) September 1998.

click thumbnail to see full size image

| | | | |
| --- | --- | --- | --- |
| | | | |